Correction...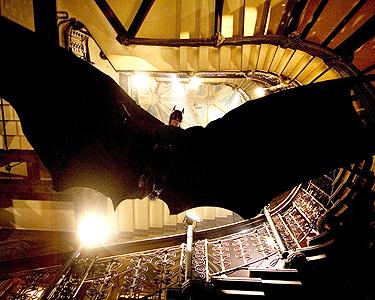 No, not about the sexual preferences of Husker Du.
In my last entry, I casually mentioned
X2
possibly being the best superhero film ever. What a difference 2 days can make!
'Just saw
Batman Begins
, and it's amazing. It miffs me that I've heard people debate whether it's the best Batman yet. It
has
to be. -
Has to be!
Clearly, it's the most well thought-out superhero film ever. And while current
Christian Bale
man-crush is still intact, the real star is director
Christopher Nolan
. It takes true leadership to walk into a franchise and take it in a new, much better direction, instead of just re-hashing out the same old stock.
For example:
He transformed the previous Gotham from archetypical Tim Burton playhouse into the gritty urban decay we all knew it should have been.
He took out the curvaceous Corvette-stylings of the Batmobile and turned it into a high tech tank that we truly believe could take all that punishment.
He had the gall to actually develop Batman's psychological state.
He extracted most of the cartoony lines and characters.
He made it a priority that we believe what we were seeing, not allowing the luxury of knowing "it'll all work out in the end".

Hell, he even removed the nipples from the previous Batsuit! (Although, you don't need to be a visionary to realize that was ridiculous.)
I hope George Lucas walks out of that movie and says, "Wow. Maybe I shouldn't have killed off Liam Neeson in half of a bad movie."