Last Weekend
Last weekend was Vegas. Ever wonder what it would be like to drive to Vegas from San Francisco? Well, as Eric and I can attest, it's a lot like this for 9 hours:
Soon after my arrival, I promptly lost the directions to Lisa's place, effectively stranding me until she and Eric got back from dinner. Well, not to brag (because I already have to everyone I could), but after losing the directions, going only on recall from being there once before, I managed to chose wisely and find her palatial Green Valley Ranch mansion.
After much reflection, I concluded the only scientific explanation for this success is that I used The Force. As I sat outside the house in question and looked at the key she gave me, I thought, "Just go up and ring the doorbell. If no one answers, try the key." That's a sound strategy, right?

No answer on the bell. So I as I slipped the key into the door I thought, "Wait a minute, this is how pizza delivery guys get shot in New Orleans!" Lucky for me, it was the right house.
And what a house! One of the things I always assumed I would hate about Vegas is the commodified housing, or as many have said, "All the houses look the same." Conversely, the dimensions of Lisa's place are anything but standard, as are the dimensions of Jessica's condo. So not everything I assumed is true.
In Lisa's place there's a beautiful, two story room that, despite my urging to turn into a half-court basketball room, she's populated with a red pool table. Still a work in progress, here's a shot of her and Jessica trying to decide upon a one-and-a-half seat sofa: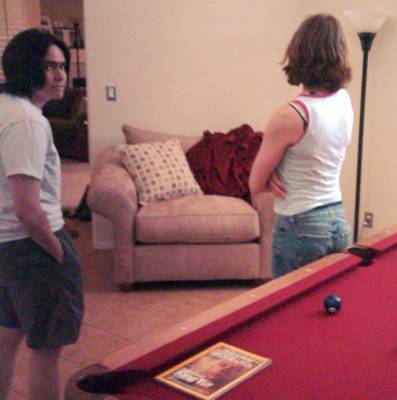 Anyway, I had a great time downloading the
short films of Eugene Mirman
(brillaint!) on her computer while she was at work and I was waiting for the sun to set.

Also, in addition to Lisa and Jessica, seeing Karen, Shilpa, Ned, Kurlander, Brett, Matt, Nick, Andy, Aki, Tommy, Jackie, Jen, Catie and everyone else I miss so much from Zappos was definitely worth every minute of driving.
My last day there the temperature got to 104! Thank the Lord Buddha for Eileen's offer to go swimming at her swanky place, complete with swimming pool.

See how happy a pool in Vegas can make you: