Belated Thank You!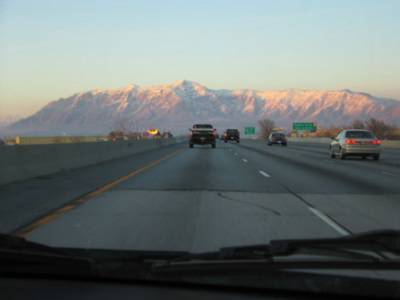 Thanks to Con & B to the A for all their hospitality a week ago when Laurel and I stayed with them in Utah. I honestly didn't know what to expect, but the scenery and skiing there lived up to all the high expectations I had heard. (And I managed to not convert to Mormon, despite how sickeningly nice they all were!)
First off, I had heard that the skiing in Utah is arguably the best in the country, this didn't phase me, because I've been hearing stuff like this ever since relocating to the West Coast. Everyone out West says the skiing back East is terrible, everyone in Utah says the skiing in the Sierras is weak (and a little aside, everyone in British Columbia says the skiing in Utah is weak compared to Whistler). I hate to fall prey to conventional wisdom, but they're all right (except the Whistler thing, which I haven't checked out.)
I had such a good two days skiing at Snow Basin (site of 4 Olympic events including the Super-G, which I still don't know what that is), I can honestly see why people schedule their lives around that activity. Indeed, we overheard a doctor on the gondola (pronounced "gon-DOE-la") mention that he only likes to practice 3 days a week so he can get out on the slopes the rest of the time. Fear not, I've not yet accepted Warren Miller as my Lord and Savior, but I understand that, once you reach a level of competence and ability, and are no longer afraid of Sonny Bono-ing yourself into the trees, skiing becomes one of the most thrilling and enjoyable activities in the world.
Laurel and I thank you for all your hospitality and company.
Here's a peak into what it was like: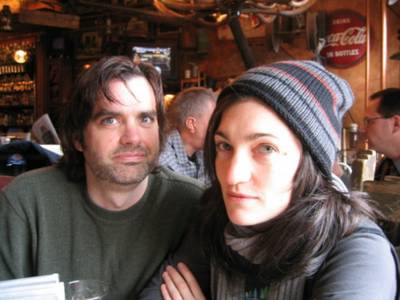 Con, in her natural state: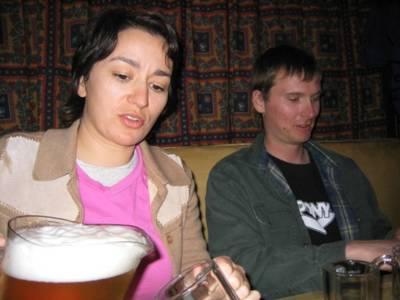 Salty dogs in Park City: