Tales from Days of Yore.
vs.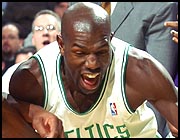 Way back, if the Age of Employment, I was flown to L.A. for a "Business Meeting" with a brand. This basically consists of going to dinner and allowing someone else to pay for it. Little did I know it would turn out to be a lesson in perspective.
I arrived at the restaurant and my manger walked over, grabbed me by the arm and said, "You won't believe who just came in, Catherine Zeta-Jones and Michael Douglas!" Unfortunately, the excitement of our good fortune soon faded for me. While everyone at our table was giddy with enthusiam to be sitting across from the said couple, my interest was soon reduced to wondering if her real name was Catherine Zeta-Jones-Douglas, and if there's a limit on hyphenated names. If she gets married again, can she keep the "-Douglas" and just add more names like legos?
I will say this about being awe-struck by the couple: When I first saw CZ-J, I said the exact same thing Charlie Murphy said when he first saw O.J. Simpson. Which was, "That's Catherine Zeta-Jones. Man, she's got a big head!" Big. Head. I'm reminded of Merv Griffin (often), who supposedly had a very strict policy with his television shows to only hire personalities with large heads because it translates better on the screen. The most famous examples being Pat Sajak and Vanna White. Maybe Merv was right. Maybe the struggles of finding extra-extra-large head gear can be made up in the form of an acting career.
Regardless.
So I sat there all night, ate expensive Asian-Fusion food, and listened to the table gush about how talented that particular Hollywood couple is. Now, I love movies and pop culture, but I'm also a cynical indie film geek, so hearing how underated CZ-J is was a bit sickening. Maybe it was because some of the people at our table never see Hollywood personalities, or that one of our diners was a recently no-longer-struggling
actress
, since landing a role on
LAX
(that's right, the show about an airport. I missed the episode where that luggage goes missing!), but the praise was non-stop. It wasn't long before I started to believe something was seriously wrong with these people.
But then it happened. With all the energy of a smacked out junkie, I gazed towards the entrance and saw Tony Delk walk in. And then Chris Mills. "Holy shit," I said aloud, "That's Tony Delk!"
"Who's Tony Delk?"
"And Chris Mills!"
"Who's Chris Mills?"
"Who's Chris Mills!? He used to come off the bench for the Warriors!" And with that outburst whatever potential dignity I mustered up at the table was gone. Suddenly, the people I pitied were actively pitying me. O' Cruel Fate! I must have been so viciously looking down my nose at my company that the gods of humility had to step in and push Tony Delk into the room. -Just to remind me that being a geek is all a matter of perspective. Touché!
As the saying goes, "One man's trash, is another man's Tony Delk."