A Fucking Tragedy.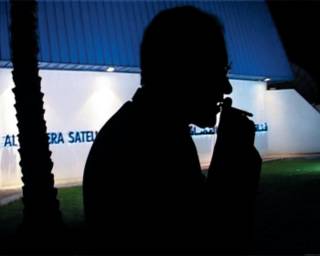 What's that? Don't feel bad enough? Take a ride on the consciousness-raising train-wreck that is
Control Room
, Jehane Noujaim's brilliant documentary about Al Jazeera television's Gulf War coverage. Talk about being caught in the middle. This film adeptly maps out the internal feud for objective journalism on both sides of the media coverage. Al Jazeera journalists struggle to cover a war many feel is directed at Muslims, while trying to not let their Islamic identity bleed through.
The film provides amazing realizations on both sides in an attempt to understand each other's perspective. At one point a US Media Commander realizes how uneffected he was by video of Iraqi casualties only after seeing footage of fallen American troops. He ultimately concedes all the tactics he criticizes Al Jazeera for, are no different from the common patriotic tactics of Fox News. In the Special Features section of the DVD (don't forget to watch), an Al Jazeera news producer deftly rants about how misguided the American presence in Iraq is, only to conclude the Arab world only has itself to blame for not overthrowing Saddam Hussein themselves.
Definitely the most interesting player in all this is Al Jazeera Executive producer, Samir Khader (pictured above). At one point he freely admits he'd immediately take a job with Fox News if he was given an offer, saying he'd gladly "exchange the Arab nightmare for the American dream." Khader, who seems like a cross between Peter Lorre and a used car salesman with a chain-smoking habit, is really the fulcrum of the film, and ultimately very sympathetic and likable. Constantly trying to keep his personal opinions at bay, he lectures about journalistic objectivity during an emotionally charged war, even chastizing another producer for booking a analyst with a clear agenda. He yells to his coworker, "That wasn't analysis. That was hallucination!"
So why did I call it a train-wreck? The most memorable line in the film is rendered even more tragic following last week's election. At one point, Al Jazeera journalist Hassan Ibrahim, who throughout the film displays a masterful understanding of the events around him, is asked, "Who can defeat the Americans? They are so strong." His answer: "The Americans will defeat the Americans. I have ultimate faith in the American Constitution."
Ouch! Sorry to let ya down, Hassan. Looks like even Al Jazeera was giving the American electorate too much credit.