Faith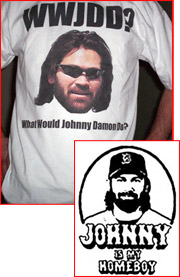 Taking off again today. This time, it's to go back to Boston for all the elation or disappointment that comes along with this year's World Series. I've always said if the Sox were "in jeopardy" of winning the World Series, I'd head back to Boston for the party and subsequent urban riot (I would hate to miss either). So here I go. I probably won't have much opportunity to post while I help the citizens of Boston push buildings into the Charles River, but I'll try.
Last week's games were so monumental and draining, I really neglected the Junction. Here's my thoughts on the Yankees Series:
The defining moment had to be A-Rod's slap of the glove. Like Lisa pointed out, one can almost understand what he was trying to get away with, but to actually argue with the umps about it reveals not only desperation, but just how much a petulant douche he really is. And Tom commented on just what a horrible team player A-Rod is. If he doesn't do that, Jeter is in scoring position with 2 outs, after the slap, Jeter is back on first with 2 outs.
Here's what he said afterwards:
"They (umpires) said I could run him over kind of like a catcher, but I can't go out of my way to knock the ball out of his hand. My response is, if he's trying to touch my stomach, I can knock his arm."
What the fuck? That's exactly the opposite of what the umpires told him he could do! He soon concluded to the press:
"I don't want those umpires to meet anymore. When they do, it goes against the Yankees."
As the Sportsguy put it, that's the difference this time around:
"With the old Red Sox, Bellhorn's homer gets ruled a double, A-Rod definitely gets called safe at first base, and Miguel Cairo clears the bases for the game-winner in the ninth."
My other favorite quote from last night came out of Johnny Damon when they asked him to comment on the crowd throwing shit onto the field, prompting the riot police to come out:
"I've definitely seen it in Oakland. We thought this place was a little bit different."
I think the Oakland Tourism slogan should be, "Oakland, the land of low expectations."
While waiting for the bus this morning, I tried to determine what I'd like to see more, the Sox or Kerry win. Tough choice, but considering what lays in the balance, I'd have to go with Kerry, since the Sox can always try again next year. -Very surprising, especially from someone flying back to Boston tonight just to watch the games on television. Basically, that means the Sox will win and we'll all suffer through four more destructive years of redneck rule. In any other election year, I'd gladly sacrifice 4 years in the Executive for a Sox Championship, but things are dire politically. Besides, even if we lose to the Cardinals, people will mostly remember the Yankees series.
Is there any sense in expecting to win both? Can a guy dream?